Bring Your Ideas to the Forefront
Don't make the mistake of using stock art and raw data in your presentations and publications. Instead, connect to your audience with compelling and accurate science visuals that illuminate your research, product, or health education concepts. And if you are seeking funding, professional illustrations are the best way to ensure your goals resonate with investors.
---
---
Illustration Services:
Medical, surgical, and anatomical illustrations Zoological, botanical, and veterinary illustrations Mechanism of action (MOA) illustrations Patient education materials Medical device illustrations Infographics and presentation visuals Litigation exhibits and presentations Interactive, web, and UI/UX design 2D animation and video graphics Editorial illustrations Graphic design materials for print and web
---
---
Great illustration is the result of collaborative problem solving. My expertise is in first understanding the science and then working with you to create accurate, provocative visuals. Here's a timeline of what you can expect:
Step 1: Project Consultation
After you submit a project inquiry, I'll promptly get in in touch with you to discuss your ideas, your audience, and your requirements. After your consultation, you'll receive the proposed illustration requirements, a timeline of delivery, a summary of rights to use the illustrations, and the estimated cost to produce the art. Once approved, we'll both sign a client agreement letter that clearly outlines those terms and sets a schedule for art delivery and payment.
Step 3: Research 
At this stage, we'll need to work together to create a plan for accurate and effective illustrations. Your knowledge and expertise is vital, so I will diligently review your research materials before I begin developing the art. Here are some examples of the kinds of materials you should provide:
Your research paper (if applicable) and any pertinent publications.
Examples of illustrations you've seen that effectively visualize your subject.
Examples of illustrations that poorly visualize your subject – let's do better!
Any text or labels that are required in the illustration.
Any materials provided by your publisher that dictate the artwork dimensions, file type/size, or other technical specifications.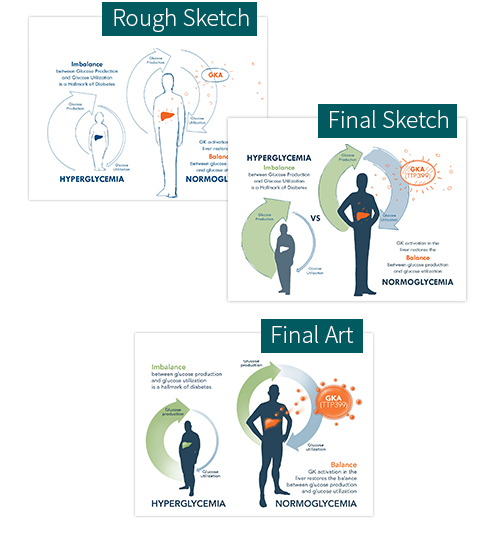 Typically, our agreement will allow for two or three rounds of sketch reviews. The first one or two will be rough sketches – this is when we'll develop the look and layout of the illustration. The next round will be the final sketch incorporating your ideas and notes. Only minor changes can be made once you approve the final sketch.
After you approve the final sketch, I will complete the final art. You'll receive a digital proof of the finished illustration to check for mistakes or misspellings. If everything looks good, you'll be provided a link to download your digital files or a package delivery confirmation.